Với hệ thống bài tập đa dạng, Bài tập ôn ở nhà môn Tiếng Anh lớp 5 giúp các em củng cố cho các kĩ năng về từ vựng, ngữ pháp, đồng thời giúp các em làm quen với những dạng bài thường gặp trong các đề thi.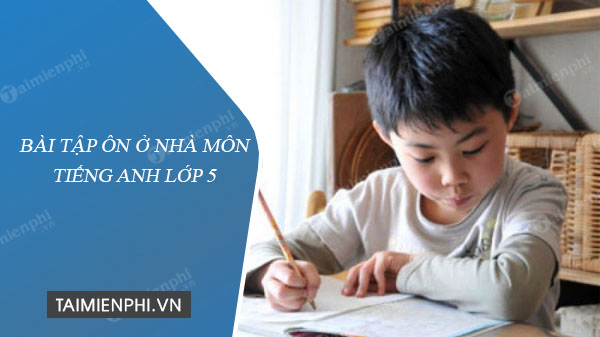 Bài tập ôn ở nhà môn Tiếng Anh lớp 5
 
Supply the correct form of verb:
1. Yesterday , my sister (be)………………………..at home .
2. They (not be )………………………at school next Sunday.
3.(he be )…………………….at the party last night ?
Yes, he (be )…………………
4. Nam often (do )………………………………his homework after school .
5. What time …………you (go) …………………to bed last night?
6.. We (be) ……………………in London next week.
7. It (be)……………………sunny yesterday.
8. I and Nam (be)………………………at the cinema yesterday.
9. Last summer, I (visit)…………………Da Lat with my family .
10. Last night , I (do) ………my homework .Then I (go)…………….to bed.
11.She always (wash )………………………….her face every morning .
12. We (be)………………………….single last year.
13. Nam (listen)……………………..to music yesterday .
14. (He have) ……………………………..a lot of friends in Ho Chi Minh city 3 years ago?
15. His uncle (take)………………………..him to see a doctor last week.
16.She rarely (chat )………………..with her friends .
17.( Liz buy)………………………………. a lot of souvenirs yesterday?
18. (They see)……………………….a lot of animals at the zoo yesterday ?
19. Every night I (go )………………………bed early.
20. They ( not eat)……………………….meat in her meals in Vung Tau tomorrow.
21. I(wear) …………………………..the cap with a dolphin on it yesterday.
22. Liz (teach)…………………………………. Ba some English last week.
23.( Bad and Tan remember) ………………………………………their trip to Nha Trang last month?
24. (Nam return) ………………………………………..to Ha Noi next week?
25. We (dance)………………..and (sing)…………………at Nam's party last night.
26. Where (he go)…………………………………. next month ?
27. Yesterday, I (get……………….up at 6 and (have)………….breakfast at 6.30.
28. They (buy ) …………………….. that house last year.
29. She ( not go) …………………… to school next week .
30.That boy ( have ) …………… some eggs last night.
Read and match
A
B
1.Where were you yesterday ?
a. No, it isn't. It's near Ha Noi ..
2. Where did you go ?
b. I went to Da Lat .
3. What was the trip like ?
c. I went with my family .
4. What did they see at the zoo ?
d. It was yesterday .
5.What did you do last night ?
e. It's Quang Ngai Province.
6. When was Nam's birthday party ?
f. Because I wanted to see many caves.
7.Did he do his homework last night ?
g. No, I didn't. I went by train .
8.How did you get to Ho Chi Minh City ?
h. I was at home.
9.What did you buy ?
i. I watched TV and listened to music.
10.Did you get to Ha Noi by plane ?
j. I went there by coach .
11. Why did you go to Ha Long Bay ?
k. No, he didn't.
12. Was Nam at home yesterday ?
l. Yes, he was .
13. Who did you go to the cinema with ?
m. They saw lots of animals
14.Where's your hometown ?
n. I bought a lot of gifts .
15.Is your hometown far from Ha Noi ?
o. It was really nice .
16.Why do you learn English?
p. They give the teachers a lof of flowers.
17.How do you learn vocabulary?
q. it will be on Sunday .
18. How do you practise speaking?
R .I will be at the seaside.
19.Do you write emails to your foreign friends?
s. I have it once a week .
20.What is Tam like ?
t. It is Mr Loc .
21.What is your brother reading?
u. i write new words in my notebook .
22.How often do you have Moral ?
v. she is gentle and kind .
23.Who is your English teacher ?
w. Yes, I do .I write to Linda.
24.Where will you be tomorrow ?
x. I speak English every day .
25.When will Sports Day be ?
y. Because I want to talk with foreigners.
26.What will the children do on Teachers'Day ?
z. He is reading The Story of Tam and Cam.
Make the questions for the answers.
1. My classes start at seven a.m and finish at eleven fifteen.
2. We have English on Monday.
3. Nga's address is 15,Tran Hung Dao street.
4. She went to Da Lat last summer vocation.
5. Her sister lives with her parents in Ho Chi Minh city .
6. My brother learn English because he wants to become a guide tour.
7. No, I don't go to school on Sundays.
8. Nam practices speaking English by talking with foreign friends.
9. I have five subjects today .
10. My mother goes to the supermarket twice a week.
11. My hometown is small and quiet.
12. He often waters flowers in the morning .
13. Nga will take a boat trip around the islands tomorrow .
14. I am reading Cinderella.
15. My brother's favourite book is the story of Mai An Tiem.
16. The main character is brave and strong.
17. The peacocks moves beautifully when we were there .
18. we had science and geography yesterday .
19. I did my homework before I went to bed last night.
20. My mother will buy a new bicycle next month.
Reorder the words:
1. you/ school/ at/ Are/ now/ ?
2. lessons/ How/ you/ do/ today/ many/ have/ ?
3. four/ Vietnamese/ a/ He/ week/ times/ has/ .
4.Do /your /you/ free /read /books /in /time/?/
5. in / We/ study / pas t/ and / present / in /events /Vietnam/ and in /the /world/ history .
6. You /it/ have/ this / book /I /when /can /finish/.
7.. study/ I/ a/ twice/ with/ week/ partner/ a/ .
8. English / English magazines / by / reading / learns/ to / read / Tuan/.
9. parents/ My/ in / live/ small/ in / a / the / village / countryside/ in .
10. Except/ He/ to / goes / and/ Saturday / school / Sunday /.
11. read/ We/ stories / short/ write/ and / essays / during/ Vietnamese/ lessons .
12.write/ I / words/ new/ learn / and/ meaning/ their/ sentences / in .
13. of/ Snow White / is/ the/ main / story / character / the .
14. rode/ He/ a horse/ used/ and/ bamboo/ fight/ to / against / enemies/ the .
15. monkeys/ The/ jumped/ down / up / and / the/ on / trees .
16. practice / I / listening/ by / English / watching / cartoons/ TV / on.
17. He/ had/ a / party / big/ at / house's / Nga /
18. His/ went/ family/ back / their / to / hometown / coach / by .
19.She / often / online/ chats / her / friends / in / Viet Nam /with.
20. They / back / came / late / evening/ the / in .
Cùng với Bài tập ôn ở nhà môn Tiếng Anh lớp 5, các em học sinh có thể tự kiểm tra, đánh giá năng lực làm bài của mình qua Phiếu bài tập ôn ở nhà môn Tiếng Anh lớp 5. Tương tự như môn Tiếng Anh, các em cũng có thể ôn tập tại nhà với môn Toán và Tiếng Việt qua: Phiếu bài tập ôn ở nhà môn Tiếng Việt lớp 5, Phiếu bài tập ôn ở nhà môn Toán lớp 5.